TEAM UP Tennessee: Cervical Cancer Facts
Mortality Rates
US and Tennessee Cancer Incidence and Mortality Rates by Race/Ethnicity
Uterine Cervix, 1996-2000 ¹,²

| Race | Incidence US | Incidence TN | Mortality US | Mortality TN |
| --- | --- | --- | --- | --- |
| All women | | 10.0 | | 3.8 |
| Caucasian | 9.2 | 9.1 | 2.7 | 3.3 |
| African-American | 12.4 | 16.4 | 5.9 | 7.2 |
| Hispanic | 16.8 | - | 3.7 | - |
| Other | | | | |
Scope of the Problem ¹
As Pap test screening has become more prevalent, pre-invasive lesions of the cervix are detected far more frequently than invasive cancer and incidence rates have decreased steadily over the past several decades in both white and African American women.
Mortality rates have also declined sharply over the past several decades, a trend that should continue with the introduction of a new vaccine to combat four strains of the human papilloma virus.
When the precursors to cervical cancer are identified by a pap test, treatment is relatively simple and effective. This leads to the disease not developing into a malignant cancer.
Sexually active women are at risk for cervical cancer.
Cervical cancer is most common among women of low socioeconomic status, those with a history of multiple sex partners or early onset of sexual intercourse, and smokers.
Infection with Human Immunodeficiency Virus (HIV) and certain types of Human Papilloma Virus (HPV) also increase the risk of cervical cancer.
Older, indigent, and minority women have the highest mortality rates from cervical cancer.
The incidence and mortality in the African-American population is almost twice that of Caucasian women. This variance represents a significant disparity for a cancer that is almost totally preventable.
A major risk factor for mortality is the lack of regular screening and prompt follow-up for abnormalities.
Symptoms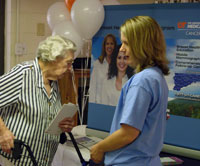 Abnormal vaginal bleeding or spotting; abnormal vaginal discharge. Pain and systemic symptoms are late symptoms of the disease.
Treatment
For pre-invasive lesions, changes in the cervix may be treated by cryotherapy (the destruction of cells by extreme cold), by electrocoagulation (the destruction of tissue through intense heat by electric current), by laser ablation or by local surgery. Invasive cervical cancers generally are treated by surgery or radiation, or both, as well as chemotherapy in some cases.
Strategies 1
Focusing on specific populations to increase screening and early detection
Educating all women about the risk
Promoting the Pap test as part of a routine gynecological examination
Assuring that screening is provided and women who need follow-up do return for care
Addressing social and cultural issues to increase screening
Informing women about the risk
Encouraging healthcare providers to routinely recommend and provide Pap tests for older female patients
Increase screening rates among women 40 and older through county partnerships including the healthcare community to offer screening to women who do not access healthcare.
HPV Vaccine
CDC HPV Vaccine Questions & Answers
CDC Vaccine Information Statement
1. Source: Tennessee Comprehensive Cancer Control Plan 2005-2008
2. Hyphens represent suppression of rates when there were 75,000 or fewer persons in the denominator or 20 or fewer deaths in the numerator.