TEAM UP Tennessee: Body & Soul Program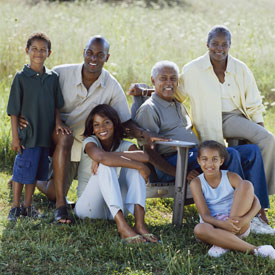 The church plays an important role in the social lives of many African Americans. That's why this program is targeting black churches to help bring a message of healthier lifestyle choices to their congregation to prevent cancer.
Body & Soul is a nationwide, evidence-based health and wellness program tailored for African American churches. TEAM UP TN partners work with church leaders to provide educational materials and resources for encouraging members to eat more fruits and vegetables and to be more active.
What is Body & Soul?
The program empowers church members to eat 5 to 9 servings of fruits and vegetables every day for better health. Churches that embrace Body and Soul help their members take care of their bodies as well as their spirits.
Why Body & Soul?
African Americans are at high risk for many serious and often fatal diseases. These include high blood pressure, diabetes, heart disease and many types of cancer. A diet rich in fruits and vegetables promotes good health and lowers the risk for these illnesses.
How Does Body & Soul Work?
Church members customize and run Body & Soul to fit the needs of their church. All of the information needed to create the program is provided in the program guide. The program draws upon the many talents of the church members to nourish and sustain their congregation as they move toward a healthier "body and soul."
What Are the Benefits of Body & Soul?
Body and Soul congregations embrace and celebrate good health through healthy eating. The congregation will:
Learn how health and spirituality are connected
Feel empowered to take charge of their health
Eat more fruits and vegetables every day
Live healthier in other ways, such as eating less fat and getting more physical activity
Gain access to vital health information at the church
How Can I Obtain a Copy of This Curriculum?
You can obtain a free CD-ROM, which contains all of the curriculum components, from the National Cancer Institute at: Research-tested Intervention Programs(RTIPs)
These materials can also be saved and printed. This program CD-ROM is not copyrighted so you may duplicate it as needed. You may adapt these materials to fit your programming needs.
These are supporting publications for the curriculum on eating more fruits and vegetables: Publications