TEAM UP Tennessee: Breast and Cervical Screening Guidelines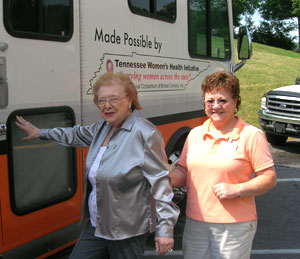 American Cancer Society Screening Guidelines
Breast Cancer Screening
Clinical Breast Exam
Women ages 20 to 39 should have a clinical breast exam every three years and annually for women 40 and older
Breast Self-Exam (BSE)
It is no longer recommended that women perform breast self-exam every month. Beginning in their 20's, women should be told about the benefits and limitations of BSE, and that it is acceptable for women to choose not to do BSE, or to do it occasionally. The importance of promptly reporting changes to a physician is emphasized.
The reason for this change is that research has shown that BSE plays a very small role in detecting breast cancer compared with self awareness. Often, women who do detect their own breast cancer find it outside of a structured breast self-exam; they may detect a lump while showering or getting dressed.
Mammogram
Women ages 40 and older should have an annual mammogram.
Cervical Cancer Screening
Women 20 Years of Age to 70, one of the following:
Yearly regular Pap test
Every other year liquid Pap test
After 3 normal tests in a row, either test every 2 to 3 years unless high risk; at 70 years of age and older, those who also have had no abnormal Pap test in the last 10 years may choose to stop