TEAM UP Tennessee: How Common is HPV / Cervical Cancer?
HPV Fact Zone
HPV
Did you know that at any given time 20 million people in the U.S. have HPV and 5.5 million become infected each year?
Millions of U.S. Women Infected with HPV
One in four teenage girls have an STD
Cervical Cancer
Since the advent of the Papanicolaou (pap) smear in the 1950s, cervical cancer rates have decreased by over 70%!!!
Cervical cancer is the 14th most common cancer in the United States, however, worldwide, cervical cancer is the second most common cause of cancer and the third most common cause of death from cancer for women.
In 2006, there were approximately 10,000 cases of cervical cancer in the United States and 4,000 deaths.
The American Cancer Society estimates that in 2008 roughly 11,000 women will be diagnosed with cervical cancer.
The five-year survival rate for women diagnosed with cervical cancer is 75%. If cervical cancer is caught early enough, it is highly curable.
Many women in developing countries do not have access to pap screening which results in a much higher rate of cervical cancer. This fact makes the HPV vaccine particularly important in these settings.
Certain groups have a higher prevalence of cervical cancer in the U.S.:

African-American women in the South
Hispanic women along the Texas-Mexico border
White women in Appalachia
American Indians of the Northern Plains
Vietnamese-American women
Alaska natives
The following chart compares US and Tennessee incidence and mortality rates by race/ethnicity between 1996-2000.
US and Tennessee Cancer Incidence and Mortality Rates by Race/Ethnicity
Uterine Cervix, 1996-2000 ¹,²

| Race | Incidence US | Incidence TN | Mortality US | Mortality TN |
| --- | --- | --- | --- | --- |
| All women | | 10.0 | | 3.8 |
| Caucasian | 9.2 | 9.1 | 2.7 | 3.3 |
| African-American | 12.4 | 16.4 | 5.9 | 7.2 |
| Hispanic | 16.8 | - | 3.7 | - |
| Other | | | | |
Cervical Cancer Links
Racial and Ethnic Differences in Cervical Cancer Rates
How Many Women Get Cancer of the Cervix?
Can Cancer of the Cervix Be Prevented?
United States Cancer Statistics by sex, year, & geographic location
The following illustrates what percentage of women who have HPV will end up with Cervical Cancer ³: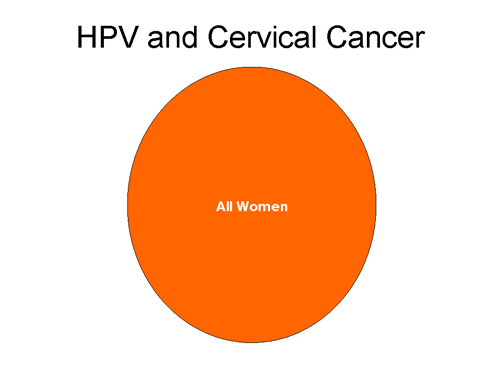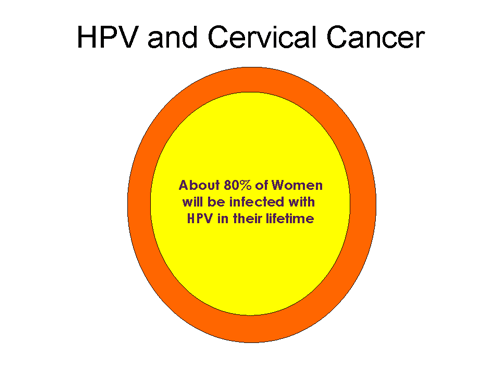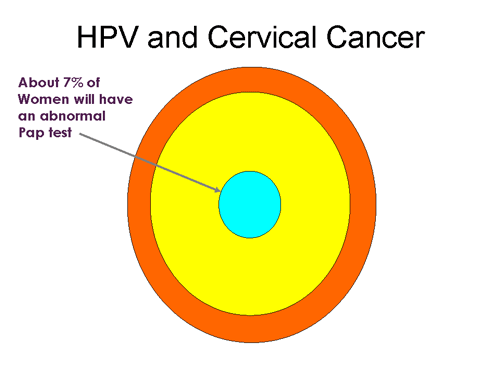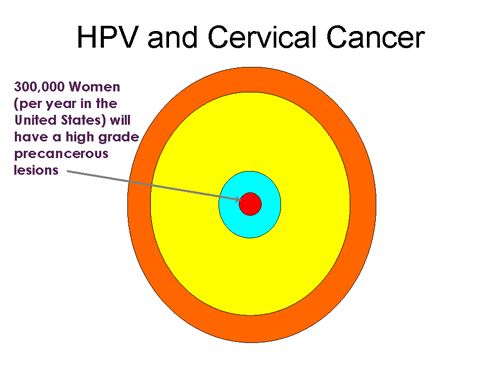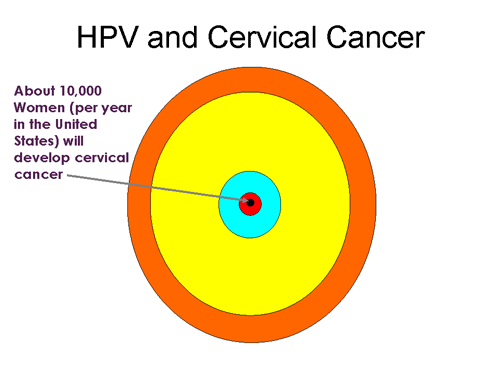 1. Source: Tennessee Comprehensive Cancer Control Plan 2005-2008
2. Hyphens represent suppression of rates when there were 75,000 or fewer persons in the denominator or 20 or fewer deaths in the numerator.
3. Source: Gynecologic Cancer Foundation presentation "The Cervical Cancer Vaccine: Facts and Information".